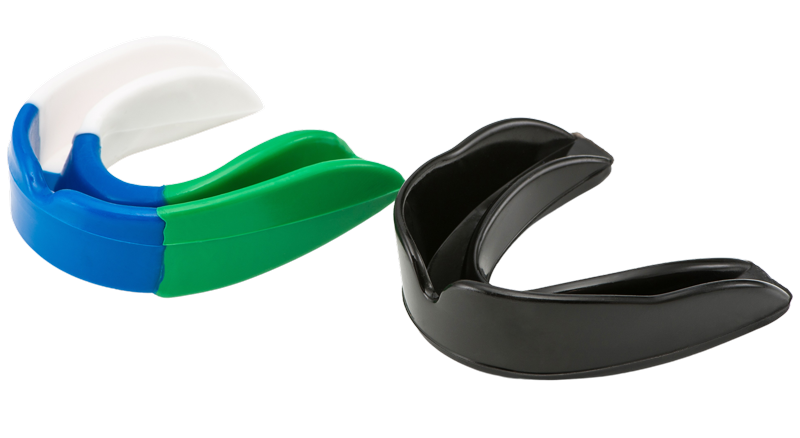 Custom Sports Mouthguards
Enjoy the freedom & protection that only a custom mouthguard can provide
Custom sports mouthguards created by a dental professional provide the only clinically proven oral protection.
Don't let you or your child play high impact or contact sports without wearing a custom sports mouthguard.
Custom sports mouthguards are professionally customised to wear over your upper teeth. They're made of a shock-absorbing material which has been custom moulded and designed to protect the mouth from blunt force. They also prevent jarring against opposing teeth while playing sport.
Breathe easily, speak freely
A well-made custom mouthguard is a joy to wear. Carefully customised, they fit well and stay in place, making breathing and talking easy. Conversely, cheap boil-and-bite mouthguards are bulky and ill-fitting, making it difficult to breathe and talk. Inferior mouthguards also pose a choking hazard.
What are the benefits of a custom mouthguard?
Who needs a sports mouthguard?
Many people can benefit from the protection of a custom sports mouthguard.
Accidental collision can occur in many activities.
Combat or contact sports:
Why choose Morley Denture Professionals?
We have the experience to help with even in the most challenging cases.
Made in Perth. No dentures are sent off-shore or interstate.
Both the ADA and Sports Medicine Australia recommend custom sports mouthguards. In recent years, they have teamed together to encourage sporting clubs to insist on a mouthguard policy for mandating the rule "no mouthguard, no play".
Dr Peter Alldritt, Chair of the ADA's Oral Health Committee, said "Every year thousands of people are treated for dental injuries that could have been avoided by wearing a protective, custom-fitted mouthguard.
Wearing a custom-fitted mouthguard helps to absorb and spread the impact of a blow to the face, which may otherwise result in an injury to the mouth or jaw.
Dental injuries can result in time off school or work to recover, can be painful and disfiguring, may involve lengthy and complex dental treatment. The cost of an injury to the teeth or jaw far exceeds the cost of a mouthguard.
Talk to us about custom mouthguards today.
Mouthguards for sports teams.
If you'd like to introduce a Mouthguard Policy to your sporting team, you can download the Mouthguard Policy here.
Sports Medicine Australia compiled this policy in tandem with the Australian Dental Association.
If you'd like to circulate a brochure to your sports team, the Australian Dental Association brochure "Play It Safe, Wear a Mouthguard" is also available for download.