Implant-Retained Dentures
The gold standard for replacing missing teeth.
Implant-retained dentures are dentures that are attached to dental implants.
They can be conveniently clipped on or off at any time.
Implant-retained dentures are 'retained' in your mouth through a series of press studs anchored to immovable implants which are permanently fused to your jawbone.
Dental implants are like tiny screws that are surgically implanted into the bone below the gumline. Implants have revolutionised the dental industry, allowing millions of individuals the chance to regain the look, feel and function of their natural teeth.
As implants are fused to the jawbone through osseointegration, they act like natural tooth roots, allowing stability and function.
A BPS® (Bio-function Prosthetic System®) certified clinic.
When complete care & attention to detail matters.
We use the world's most sophisticated system (with the Dr Abe suction technique for loose lower dentures) to create truly advanced dentures, unlike anything you could ever imagine.
What are the benefits of implant-retained dentures?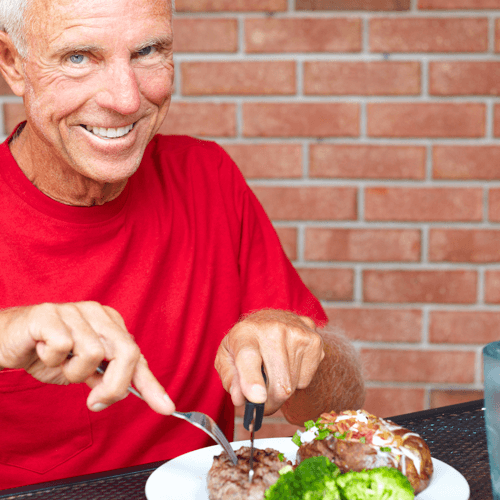 Understanding Bone Resorption
When we bite and chew our food, our natural tooth roots stimulate the jawbone, keeping our bone tissue strong.
Without this stimulation, our body signals osteoclasts to break down the bone.
You can avoid this situation by placing dental implants in your jawbone, mimicking the action of your natural tooth roots.

Why choose Morley Denture Professionals?
We have the experience to help with even in the most challenging cases.
Made in Perth. No dentures are sent off-shore or interstate.
There are many options and considerations when it comes to implant-retained dentures. You'll need to discuss these options in-depth with your dental professional to see which option best fits with your expectations, lifestyle, current health and budget.
STEP 1
STEP 2
STEP 3
STEP 4
STEP 5
STEP 1
Initial consultation. 
First, you'll need an initial consultation with your dentist to see if you're a viable candidate for implant-retained dentures.
Most people can have dental implants, but some health problems or habits may prevent you from doing so. Examples include being a heavy smoker – or having untreated diabetes or certain cancers. You must also have adequate bone density. However, if bone tissue is limited, a bone graft may remedy your situation.
STEP 2
STEP 3
STEP 4
STEP 5
FAQ's about Implant Retained Dentures
Making your implant-retained denture
It takes approximately 4 – 6 weeks to make your implant-supported denture. You'll need about 4 appointments during this time. First, we'll take preliminary impressions and intraoral measurements.
Then there will be secondary definitive impressions and am extensive oral and skull analysis. (This is not as scary as it sounds – we will carefully measure you to get the best, most comfortable fit for your denture.)
Next, we create a wax model of your denture. You'll need to come in for an appointment to examine this model and make any changes required.
Finally, you'll come and see us for your new denture fitting. After checking the fit, your dental prosthetist will teach you how to attach and remove your device, give you cleaning and hygiene instructions – and answer any questions.
Of course, once you have your new denture, your relationship with us does not finish there. We'll always be here to answer any questions. Plus, it's crucial you maintain follow-up appointments so we can make any adjustments and iron out any problems for you. And, importantly, you must adhere to good oral hygiene if you want your dental implants to last.
Talk to us about dentures today.